Customer Reviews
15 Jan 2022
Josi

Canada
This is the cutest one they have. Favourite print. I've bought it a few times because I wore it out. Love.
14 Jan 2022
Janine

Canada
I love my silky skinny leopard scrunchie. Wear it at night with hair twisted back, take it out in morning & hair looks like was freshly curled, then keep on my wrist all day to tie back if needed while cooking or when need to get some serious **** done at work!! I have super thick uncooperative hair & this scrunchie can hold it in place, yet so super soft & gentle, doesn't leave a kink in my hair. Love love love #supercrush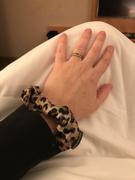 14 Jan 2022
Nicole P.

Canada
This is one of my favourite scrunchies!! I have long, fine hair and the skinny is my go to for a low ponytail or low messy bun. The leopard looks just as good on my wrist as it does in my hair. I've given a few as gifts and they are always a hit!! You won't be disappointed.
Absolute staple scrunchie for your collection. Also great material that is gentle on your hair and never feels too tight, yet provides good hold.
14 Jan 2022
Jenna D.

Canada
This is my favourite scrunchie, I wear it everyday in low buns, messy buns, ponies you name it. I work long hours and have thick long hair and it manages to hold it all of my hair all day without being too tight and hurting my head. Its also super cute to style on your wrist for a night out with a cute outfit and it's just there if you need it. This is one of my first purchases from supercrush over a year ago and it still looks brand new, no signs of wear and tear.