Customer Reviews
08 Jul 2020
Emily
Canada
Love these masks!! I bought
Love these masks!! I bought myself this one and my bf one and it fits perfectly and is so breathable compared to others, I dont feel like my face is sweating all day. My mom loved it so much she got a pink one and got my dad a black one to match!! You may think they're overpriced but the money is going somewhere good and the quality is amazing. Worth every penny
22 May 2020
Kayla
Canada
These masks are fantastic! They
These masks are fantastic! They just feel like they're good quality and made from superior materials. You can easily add or remove a filter and adjust the size to fit your face. Works well for both men and women in terms of sizes.
11 May 2020
Marissa G.
Canada
I love my mask. I
I love my mask. I never leave the house without it now. Even when I go on bike rides. I get asked about it multiple times a day and I'm not even ordering one for my sister who lives overseas in Singapore. I love that it has a little slot at the bottom for a filter for extra protection. I have MS so for me staying safe and healthy is of the utmost importance because getting sick would really affect my already terrible condition so the fact that this mask is also fashionable makes it a no brainer for me to wear daily.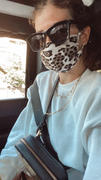 10 May 2020
Nicole G.
Canada
These masks are amazing so
These masks are amazing so well made can't wait to try the scrunchie
09 May 2020
Nicole
Canada
Mask fits great and the
Mask fits great and the fabric is so nice and light! Obsessed with the leopard pattern!