Customer Reviews
06 Jul 2022
Kimberly K.

Canada
The best clips ever
Not going to lie I was a bit skeptical about spending $60 on hair clips but one of my girlfriend raved about them. Since I have purchased them I have not taken them off. The bristles don't break, they sit flat to the head and actually grab and hold all my hair! Honestly the best hair clips. Love the ethos of the brand and recommend them to everyone. Hope they come out with more prints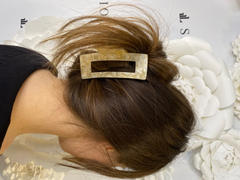 05 Jul 2022
Amy R.

Canada
Perfect
So cute so comfortable and so great for a protective style. I'm obsessed.
22 Jun 2022
Kiana O.

Canada
Crush Clip
Love this clip!!! Super durable and cute. I wish this company made an XL as I have really long hair and it's hard to squeeze it all in one. Other than that great clip! :)
01 Jun 2022
Rebecca S.

Canada
Great clip!
Very pleased with this hair clip! I've purchased a variety of different hair clips, none of them being able to hold my hair. This clip holds my hair & fits against my head very comfortably!
15 May 2022
Shanti M.

Canada
Best clips ever
I'm absolutely obsessed with these clips. I feel like I don't ever wear a scrunchy these days. After a shower put your hair up when it's damp and later in the day take it out for the MOST PERFECT wavy hair evaaa