Customer Reviews
12 May 2020
Colleen
Canada
The vegan leather super skinny
The vegan leather super skinny is the hair tie I reach for the most. I have slippery straight hair and nothing stays put like that little guy! I'm "big boned", and while the leopard is a little tight on my wrist, the vegan leather fits perfectly. I've never been complimented on a scrunchie before! But super skinny vegan gets more attention that most bracelets.
10 May 2020
Emily
Canada
I love this set of
I love this set of srunchies as they are totally versatile for both top knots and ponytails. I have been using Supercrush scrunchies for years now, but recently cut my hair. I was so excited to try the smaller size of scrunchie on my new short hair. They work perfectly for top knots, low buns and pony tails. The leopard print is absolutely stunning which made me want this set all the more! Little did I know, I'd fall just as in love with the leather scrunchie as well. I did find the scrunchies to be a bit tight on my wrist. I would have liked them to be a tad looser.
09 May 2020
Jessi
Canada
I love this company! Packaging
I love this company! Packaging was cute and thoughtful. The super skinny hair scrunchies are great for work, they add some interest/fun without being to bulky. I really like wearing one in my hair and one on my wrist. The only reason I am not giving this 5 stars is that the vegan leather fits perfect on my wrist whereas the leopard print is uncomfortable. I think this a good thing to be aware of if you are buying with hopes of displaying on your wrists, I also have very small wrist. I know they are hair scrunchies so maybe this can't be avoid. Overall love the product and will definitely be making some more purchases with this company.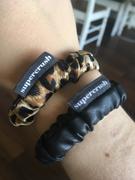 08 May 2020
Brittany
Canada
I have really fine hair
I have really fine hair and found that the skinny scrunchies were still too thick for doing my hair half up/half down! Courtney recommended the super skinny scrunchies and I'm so glad she did! They're really cute and work perfectly in my hair! I also like them for a more subtle look - the black one is my favourite for that! Such a great purchase!
08 May 2020
Victoria
Canada
These are next level adorable!
These are next level adorable! My only beef with them is that they don't hold quite as firm as the scrunchies do but I still wear them all the time!